Insert here my semi-annual apology/explanation of why I don't post as often as I once did. I am only one man, friends. But Halloween is my favorite movie-viewing season of all, so, stirred by a fondness for terrible horror movies and a need to share my inane thoughts with others, here we go!
ASSUME THAT THERE WILL BE SPOILERS! CAVEAT EMPTOR!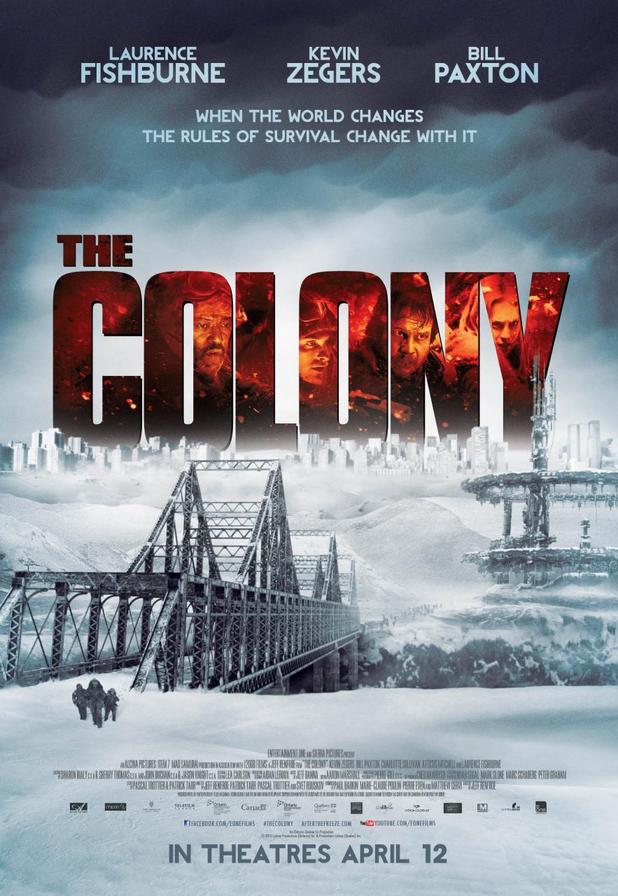 The Colony
The Colony
should have been a home-run for me, as it combined some of my favorite tropes: post-apocalypse, wintery isolation (ala
The Thing
), cannibals, and Bill Paxton. And yet, there's something about this movie that I couldn't put my finger on, until I realized that it was a Canadian production. And there you have it. This movie is very...Canadian.
Earth has been consumed by snow thanks to malfunctioning climate control machines. Or maybe in spite of functional climate control machines. I'm not sure. Suffice to say that there are giant weather control machines, and they're not working correctly.
Small bands of survivors are cloistered in subterranean bunkers, where they grow seeds and hope to find a way to reverse the seemingly endless winter. However, their already diminished numbers are threatened by disease, which leads to an Orwellian nightmare scenario for the inhabitants. If you start coughing, chances are you're sick. And if you're sick, you can either elect to be shot, or you can wander out into the wasteland to freeze to death. Of course, this being a movie in need of dramatic thrust, it isn't long before the healthy start making that choice FOR the sick. Blam.
Laurence Fishburne is your stoic commander, trying to do the right thing. Bill Paxton is your trigger-happy survivalist, hellbent on keeping the Colony safe at any cost. And then there's some other guy who is the hero, but I can't really remember his name or the actor, because Canadian Movie.
A distress call comes from a nearby bunker, and Larry, good guy that he is, decides that they must go investigate. After a suspenseful journey across frozen wastes, (this being arguably the best part of the movie, highlighted by some neat images of the giant weather machines, which gives the whole thing a sense of proportion) the away team makes a gruesome discovery.
Cannibals! Yes, cannibals are eating survivors, moving from colony to colony, their eerie, wordless shrieks of hunger lending some eeriness to the proceedings. The introductory scene in which one of the freaks is discover hacking into corpses like sides of beef is particularly chilling.
But at the end of the day, it's just not enough.
The Colony
is a solid premise betrayed by obvious budget limitations. Some bad CG gore here, some dumb looking green screen effects there, and an overall generic pass at dialogue leads to a movie that is less than the sum of its admittedly formidable (Winter! Apocalypse! Paxton! Cannibals!) parts. That being said, it's definitely not terrible, and if you think you'd like this sort of thing, you may as well check it out. You can definitely do much, much worse, and you get the feeling that everyone involved was really TRYING, gosh darn it.
Kill List
One part
In Bruges
, one part
Wicker Man
,
Kill List
is a satisfying mix of hit man and cult genres.
Jay and Gal are former soldiers who were involved in some bad shit in Kiev. Gal is a contract killer, but Jay hasn't been doing much of anything. Urged by his wife (and a need for $$$), Jay joins Gal on a job, only to find that things aren't exactly what they seem. Oh, and also, he is a psychopath who manages to take even the contract killing of slimeballs a bit beyond the pale.
Kill List
isn't the most original idea in the world, but it works, due in large part to the easy interplay between the two leads, and the pervasive air of dread. Atmosphere is everything, and pacing and score do a lot to crank up the unease. The actors have good chemistry, and there is a great deal of humor that comes naturally from the character
s,
which does a good job of grounding the more horrific scenes.
I liked
Kill List
. Would it kill you to watch it? See what I did there? I'm sorry. I'll shut down the site now.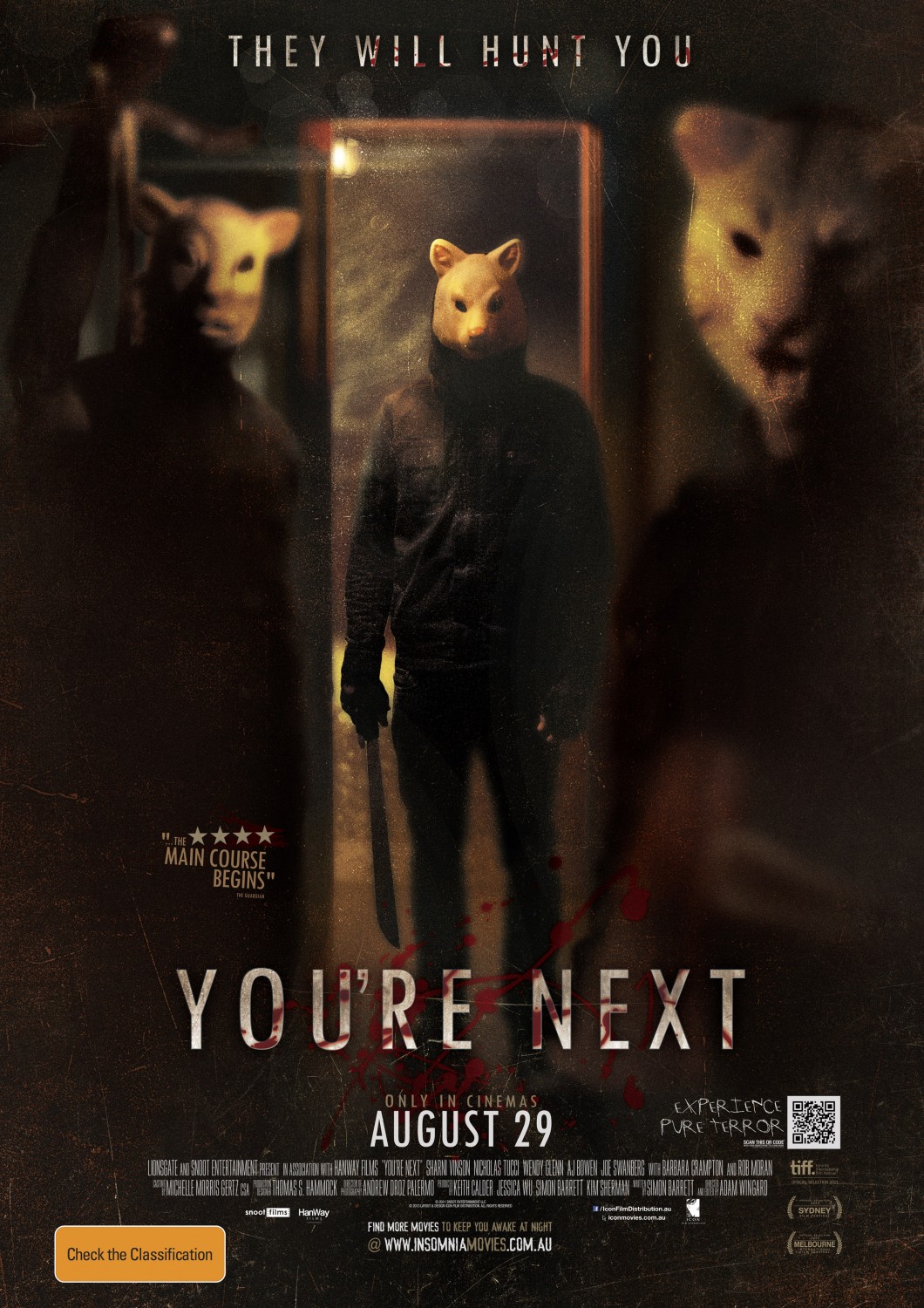 You're Next
Speaking of movies that somehow miraculously escape the low bar of their respective genres,
You're Next
is yet another home invasion movie (albeit a home invasion movie with animal masks) that is somehow much, much better than the sum of its parts.
A well to do family reunites at their Missouri vacation home, at the same time a band of psychos in animal masks is murdering their way along the countryside.
You're Next
mixes the "What do they want and why are they doing this?" home invasion motif of
The Strangers
, with the masked killer trope of, uh, every horror movie ever made.
But the film is extremely well made, offering surprises, shudders, laughs, and clever kills. Along with his buddy Ti West (who guest stars here), Director Adam Wingard has become one of the big names to watch in horror.
You're Next
delivers on the promise of
V/H/S
. I haven't had this much fun watching a dumb horror flick in quite some time. Highly recommended.
Escape From Tomorrow
Escape from Tomorrow
recently gained some notoriety due to its central conceit: this tale of a distressed middle aged father going through a midlife crisis/total break in sanity while on a family vacation at Walt Disney World was actually, honest god, shot AT Walt Disney World.
This fact is, naturally, the most interesting thing about the movie, and everyone involved seems to know it. That's why you keep hearing about how they got away with shooting inside the park, and not, like, how good the movie is.
EFT was shot guerilla style on digital cameras within the actual Magic Kingdom and Disney Land. The filmmakers did not have permission to film inside the park (because surely it would have been immediately shot down), and they wear that as a badge of honor. In fact, it's pretty much the only badge that the movie can wear.
Strip away the "Hey, that's Splash Mountain!" aspect of the film, and all you're left with is a fairly amateurish production with dinner-theater acting and a storyline about a middle aged Dad who keeps chasing around some seemingly underage teens which will set the pseudo-pedo alarms of most viewers a-ringin'.
At the end of the day, the fact that Disney's only comment about the film is that they are "aware" of it, and that they have instead let the film die on its own lack of merits, should tell you all you need to know.
That being said, if you're a big WDW nut like me, it's worth at least one viewing just to play the "Hey, I know where they shot that!" game. I'd also wager that if there's a home video release, any Making of or Commentary tracks would be fascinating. But the movie itself? Not so much.
The rest:
Paranormal Activity 3 & 4; Insidious Chapter 2, Machete Kills -
These movies are bad, and not in a fun way, but in a bad way. Do not watch them.